Return
Check out top 8 simple living room ideas for your home
Interior designing is meant to develop an aesthetically appealing environment in the interior. The design must be based on a strong plan, research, and coordination so that it is appealing and comfortable for the person/persons utilizing the space as well. To achieve this, the Best Interior designers must be proficient in using the 7 elements of interior design which are an integral part of a designing job effectively.Who doesn't want to have a beautiful living room? It is one of the most essential parts of your home where your family and friends gather to talk. If you think that spending a lot of money can make your room astonishing, then you are wrong because you don't need complex designs to create memorable room. By using some artistic and curated pieces, it would be effortless to turn your dull living room into a fantastic living room. Re-decoration can be a fascinating process as you can do it just the way you want without worrying about anything. Here are the top eight simple living room ideas which you will love:
1. Rearrangement of coffee table
Coffee Table is one of the most important parts of the living room, and if you are looking for one of the best Interior design images, then you would notice that coffee table can be found in each one of it. So, you need to get a new coffee table for your living room if the older one has damaged or got too old to use. If you have already bought a modern table some months back, then you can rearrange the items and accessories on the table. Make sure that you don't make it look cluttered and add only one or two necessary items on it.
2. Change the complete layout
If you don't want to spend a single penny for the Living room interior design, then you need to change the entire layout of the room. This would make the room look fresh and new. You can change furniture arrangement, seating arrangement and dividing the living room into different zones can make it more fantastic. If the furniture is attached to the walls, then it would be better than you bring it in the centre. You can change the place of the bookcase, coffee table and other wall arts in the living room to bring a change in its layout. You can also change the arrangement of curtains on the windows to make it look quite different and better than before.
3. Replacement of curtains
Curtains play a crucial role in deicing the look of your room and when you are looking for some simple living room designs for small spaces, then replacing curtains can be a good idea. If you want to make the windows look large, then you should hang the curtains to a higher level, and wide curtains can also make the window look more prominent. You should allow natural light in the living room so that it can look amazing automatically. The natural light can enhance the look of any room, and it would do the same with your living room.
4. Add rugs in your living room
Not only carpets can enhance the look of your living room, but rugs are also in trend. You can find a lot of Interior design images in which rugs are layered up. If you have small rugs in the living room, then you can add inexpensive and large weave rug under it. If you have got a large rug which doesn't look right, then you can add a little antique carpet over it to bring the character in your room. You can get a wide range of options when you consider buying rugs for your living room from the online store.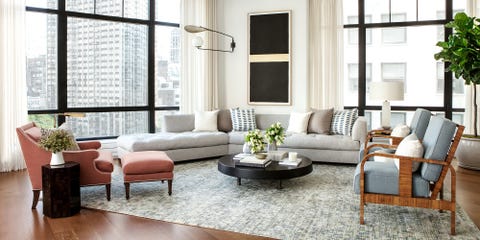 5. Repeat colors
When you are looking for the best interior design for the hall, then colour repetition plays a significant role in it. You can repeat one or more dominant colours in the hall to bring an aesthetic feel. The various items in the room can be added as per the colours of walls and ceilings. You can get an aesthetic table matching to the colour of walls to bring a sense of repetition. Other than this, repetition of colours can be done with carpets, rugs, furniture, fireplace mantel and a lot more. You can also opt for the all-white theme in your living room. Make sure that you choose to repeat the appropriate colours without making it look exaggerated. You can also consult the interior designer who can help you to select one of the best colour options for the living room.
6. Bring a sense of nature
Most of the famous interior designers believe that little plants and flowers can enhance the look of your living room and there is no doubt in that. You should leave using the artificial flowers in the living room but add the little pots in which you can grow the original plants. This would bring a fantastic ambience to your living room which can be hated by none. You can choose your favourite plants which can be planted in indoor areas.
7. Add bright pieces on the fireplace mantel
If you want to enhance the look of the fireplace mantel in the living room, then you can add some bright pieces with which it would be easier for you to enhance the look of the entire living room. You can add a mirror or silver candlesticks to make the fireplace area look interesting. Make sure that you don't make the place much crowded or cluttered. If you are planning to redesign your home and were also planning to get a fireplace mantel, then you can also get this work done in the living room.
8. Install vintage bookcase
If you are looking forward to choosing the best interior design for the hall, then you can decide to take help of the vintage bookcase. The book lovers can understand the importance of having a bookcase in the living room. Even if you aren't an avid reader, your guests might love to read the books in the living room. If you already have a bookcase, then you need to rearrange it appropriately otherwise you should buy a new one. You should remove all of the items from the bookcase which are of no use in the living room. You can add your new books in it along with some art accessories. Decorative accents on a bookcase can make it look amazing.